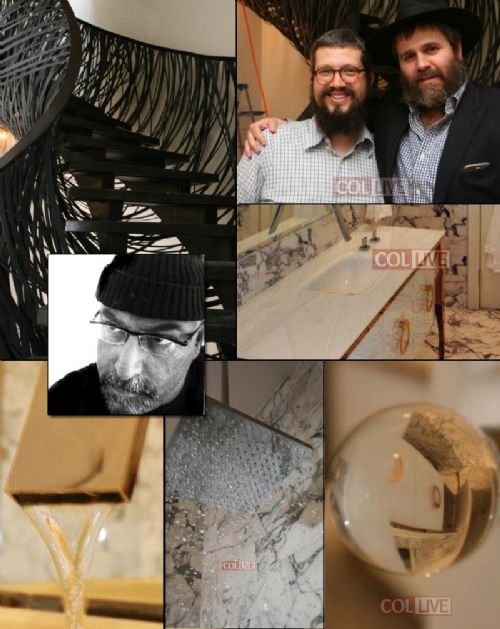 When photographer Marc Asnin photographed the magnificent new Mikvah Mei Chaya Mushka in Crown Heights, he couldn't believe it was the same spot where his aunt was murdered.
By Collive Reporter.
Award-winning photographer Marc Asnin came to Mikvah Mei Chaya Mushka in Crown Heights to photograph the magnificent new Mikvah for a special memento "Living Waters" to be published in honor of the opening next Sunday.
He was accompanied by Dovid Zaklikowski of  Lubavitch Archives.
"I have been to many Mikvahs as I work with Dovid on our upcoming book 'A Light Among The Nations,'" Asnin said. "I have never seen anything like this."
Asnin is a native New Yorker and award-winning photographer, having taken shots for major media outlets like Life, The New Yorker, The New York Times Magazine, French Geo, La Repubblica, Le Monde and Stern.
He has said that he has been profoundly influenced by the Lubavitcher Rebbe, Rabbi Menachem M. Schneerson, of righteous memory.
In the winter of 1992, while working with The New York Times Magazine, he was assigned to photograph the Rebbe for a cover story on the Rebbe's influence. Asnin's photograph of the Rebbe was selected by The New York Times Magazine as one of the "25 Most Memorable Covers" of the previous 100 years, Chabad.org reported.
Marc dedicated his work for the "Living Waters" publication to his aunt Berdie Henchkie, who lived across the street from the Mikvah in 706 Lefferts Avenue. Henchkie, childless, was murdered by a thug in September 1972 as she was bringing out the garbage.
Before going to the Mikvah, Marc made an emotional visit to her apartment on the first floor of the building.
"Who would believe that forty years later the neighborhood would turn around and once again be a thriving Jewish community," he said.
The Mikvah will be opened at a Ribbon Cutting ceremony and dedication on Sunday, 4 Tammuz, 5775, June 21, 2015 at 11 am at 445 Troy Avenue at the corner of Lefferts Avenue.
Those who have not yet donated to the Mikvah, now is the last chance to get in on this huge zechus. Dedication opportunities are still available. Click here to donate.